Let's create together
There are times that call for creating something very special. It might be a piece that's designed just for you, or a unique gift to mark a special occasion. Perhaps it's one of those milestone moments – a wedding, an anniversary, a birth or a birthday. It could be a new home that requires an exceptional piece tailored just to your taste and space. Or maybe you just want to capture the marvelous memories of your latest journey.
I've had the honor – and fun – of creating a number of commissions for my clients and collectors. Here are just a few recent examples. If you'd like to talk about creating something truly memorable, please call me and let's schedule a conversation.
I'm looking forward to it.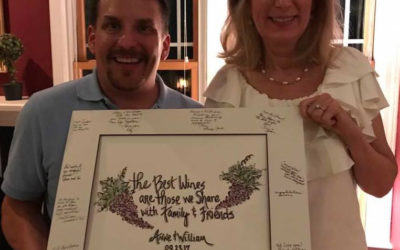 Wendy and Charley Corbett were excited their friends Anne and William were getting married, so to celebrate the occasion, they planned a 'Stock the Cellar' Shower. Always the consummate hostess, Wendy wanted the perfect gift and had a special message to share. "The...
read more