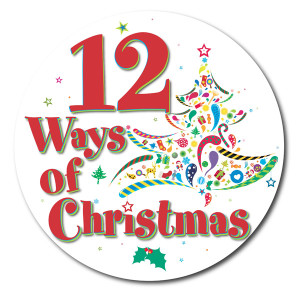 "Only 12 Days Till Christmas" the calendar screams… YIKES!!!! What's a multi-tasking woman to do? The list is long and the shopping? Well? Let's just say that, if you'e like me, you have some of the gifts bought and waiting to be wrapped, but the rest? Too overwhelming to get your head around?
Not to worry! I've got you covered… it's time to narrow focus! YES, the easiest way to knock out the shopping is to set a limit and stick to it. "I've heard that before," you say. Maybe, but usually people are talking about setting a limit on the amount of MONEY you'll spend. I say, forget the money, it's the TIME I don't have!!!
Well, if time if short, consider one of these:
– choose ONE STORE and do all your shopping there. A large but stylish store like Target is perfect for this. So many choices all under one roof. You can even get your wrapping materials there. No big box store close by? HIt the local drugstore! Yes, even CVS and Walgreen's can yield fun, creative gifts for everyone on your listt!
– decide on ONE THEME. Food and books are both perfect for this. There is a book for everyone, believe me. Novels, business, self-help, even Holiday Classics! And who doesn't EAT? Choose a grocery or a specialty food store like Whole Foods or you local market. Narrow it down a bit and give everyone on your list a DIY meal, or their gourmet favorite.
– two words: GIFT CARDS! Today, you can get your hands on a full array from Starbucks to Toys R Us, hanging on the display at your local retailer. Choose the card to match the recipient. iTunes for the music or tech buff, Olive Garden for the harried mom who needs a kitchen-free night, you can even get Bass ProShops for your favorite sportsman. Want to dress up the card a bit? Spring for a special card-holder or choose a cute tie-in to wrap with the card. Like a package of Raisinettes to go with the AMC movie card! It's easy and fun when you get into it!
See? Setting your boundaries doesn't limit your creativity! Narrow your focus and go knock out that list NOW! Believe me, you'll be glad you did!
PS Don't forget to treat yourself to a latte (or a glass of wine) to celebrate! You'll deserve it… and why not kick back and enjoy your newfound time.