Wendy and Charley Corbett were excited their friends Anne and William were getting married, so to celebrate the occasion, they planned a 'Stock the Cellar' Shower. Always the consummate hostess, Wendy wanted the perfect gift and had a special message to share. "The Best Wines are Those We Share with Family and Friends".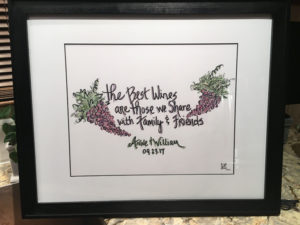 She asked me to help her realize her vision in a piece of art that the couple could hang in their new home. After sharing several sketches for ideas with her, she chose this one. Then, to add an extra special element, I framed the piece with a wide white mat. At the party, everyone added their own best wishes, so Anne and William can enjoy for a lifetime.Here's to the happy couple and to truly vintage friends!
If you have a special piece you'd like to create, let's chat.