Okay, I admit it. I'm at that age where a few (or more) of my friends have begun asking themselves whether they will or won't. Have 'a little work done' I mean. Me? Well, I never say never, but the thought of having something foreign injected or actually volunteering to go under the knife? Not so much. Not so far, anyway. And I may never need to. Why? Because I've found the best, instant facelift. Doesn't hurt a bit and no recovery required. (I hear you asking!) I've just had my brows done! Every time I do, I get the most amazing reaction. "Have you lost weight? You look GREAT!", my friends ask.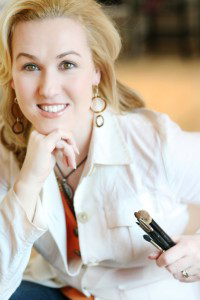 Yes, my eyebrows had their own personal makeover to achieve their personal best – and its all the work of styling genius Alyson Howard-Hoag and  her team. Well known as the 'Brow Guru,' multi-tasking Aly is the creator of Authentic Beauty and a soon to be released line of marvelous makeup in eco-friendly packaging. She's a make-up artist to the stars, but lucky for me, her home base is right around the corner!
Need to perk up? Take my advice. Have an instant 'lift' – no surgery required. Just a great eye for Authentic Beauty, some careful plucking, a little trim here and there, and you're done! Skip the recovery and enjoy the result.
You know, they say the eyes are the window to the soul, and now… I've got the perfect custom framing!
PS We're proud that Alyson and Authentic Beauty are joining us in our NeverTooBusyToVote effort! Tell her 'thanks' when you see her!