Starting this weekend, writers around the country are 'Giving Motherhood the Microphone' in 39 cities. The very first show is in Atlanta, where I'm proud to be joining these 12 other fabulous, creative voices in sharing the triumphs and tragedies, the belly laughs and belly flops of motherhood.
Just meeting and getting to know my cast mates has been the best part! Listening to and witnessing our stories bound us together from the first read-through. I know you'll love each and every one of them.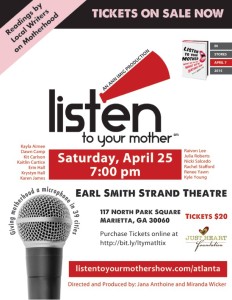 It's the perfect way to celebrate Mother's Day, so find the city nearest you and get your tickets now! And for those of you who can't find a show in your city? Consider starting one! Creator of ListenToYourMother, Ann Imig, and her team would LOVE to hear from you.
Mothers. We all had one. Or has someone who mothered us. We may have kids, want kids, or want not to have kids. The spectrum of motherhood is the full range of life.
See you this weekend!!! Tickets for the Atlanta show are on sale NOW!
PS And for the mothers on your gift list, the new ListenToYourMother book has just been released! Buy it now right here!!!Listen to Your Mother: What She Said Then, What We're Saying Now